PB STAMPS Alexandria, OH USA
Welcome to PB Stamps. The largest online retailer of Penny Black stamps anywhere in the world!
I stock over 4000 different stamps which includes hundreds of Penny Black RETIRED Stamps!

DIES WOOD MOUNTS CLINGS ACRYLICS
***CLICK PROMOTIONS TO SEE OUR WEBSITE MAKEOVER SPECIAL***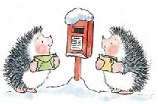 Click on the Hedgehog image to email us.