How To Order
3 WAYS TO ORDER.
1. While visiting each product page, click the Add To Cart button for each item you want. Then click CHECKOUT on the order page.
2. Make a list of the stamp number and name. Email that list with your payment and shipping information to:
EMAIL: pbstamps@gmail.com
or Click this image found on most pages of this website.
Click on the Hedgehogs -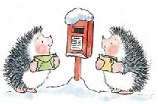 -to send us an email.
3. By phone ONLY if your are having trouble with email or the order form.
call 740-817-0711

Please call between 9:00AM and 9:00 PM Eastern Time

If no answer, leave your name and number and I'll return your call.